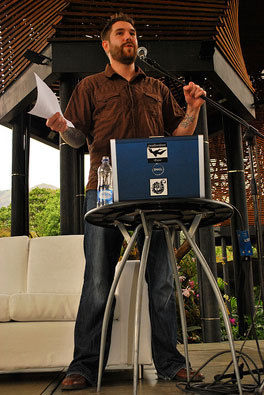 "A master of mood, seamlessly combining the literary with the grotesque. Johnson deserves to be a household name…"—PUBLISHERS WEEKLY 
"Genre-bending...haunting and humorous." —THE WASHINGTON POST 
"Johnson captures humanity's absurdity, our grotesqueries, sometimes our triumphs, all the while pushing past the limits of reality, transforming it into something dark, and surreal, and unforgettable." —BARNES & NOBLE SCI-FI AND FANTASY BLOG 
"A powerful imagination, a great talent for storytelling, writing chops that allow him to tackle any genre, and a flowing, dynamic voice that, if Johnson were a singer, would extend to an impressive eight octaves." —ELECTRIC LITERATURE 
"Surreal, visceral, and frequently unsettling...One more descriptor, while we're at it: highly entertaining. Johnson brings a pulpy urgency to the page, which blends neatly with the frequently heady concepts that he utilizes in his fiction." —TOR.COM 
"One of the most exciting voices in contemporary fiction. Jeremy Robert Johnson's work has always tested the limits of both genre and literary fiction." —BOOKSLUT 
"Not unlike David Foster Wallace's wicked and perhaps deranged younger brother." —21C MAGAZINE
"A dazzling writer." —CHUCK PALAHNIUK
"Jeremy Robert Johnson is dancing to a way different drummer. He loves language, he loves the edge, and he loves us people. This is entertainment...and literature." —JACK KETCHUM 
"Johnson writes with an energy that propels you through some very dark spaces indeed and into something profoundly unsettling but nonetheless human." —BRIAN EVENSON
"I'm a longtime fan of Johnson. A master of derangement, he's been bringing it for years." —LAIRD BARRON
"Reading Johnson, you feel you are in the grip of an immensely powerful, possibly malevolent, but fiercely intelligent mind." —NICK CUTTER
"I've seen the future and it's bizarre, it's beautifully berserk, it's Jeremy Robert Johnson." —STEPHEN GRAHAM JONES
"The guy's a genius. Reminds me of William Gibson—the dark interest in altered states of consciousness, the unrelentingly furious forward movement, and the same kind of unlimited imagination." —BEN LOORY
"Jeremy Robert Johnson performs stand-up comedy for the gods. As with Clive Barker, there is no glorious mutational eruption that Johnson can't nail directly through your gawping mind's eye." —JOHN SKIPP
"In its most twisted moments, Johnson's writing is too gleeful to pigeon-hole as strictly horror, and when he steps outside the gross-out game he transcends most other straight literary writers." —VERBICIDE
"Johnson weaves vivid and fascinatingly grotesque tales." —BOOKGASM
"I don't know if Mr. Johnson sold his soul to the devil to give him this gift for nightmare imagery, but by god, this guy can write. Johnson excels at pathology and perversity. A confirmed weirdo and authentic writer of uncommon emotional depth who deserves to be watched." —CEMETERY DANCE
Jeremy Robert Johnson is the author of WE LIVE INSIDE YOU, the cult hit ANGEL DUST APOCALYPSE, the Stoker Nominated novel SIREN PROMISED (w/Alan M. Clark), and the end-of-the-world freak-out EXTINCTION JOURNALS. His fiction has appeared internationally in numerous anthologies and magazines. In 2008 he worked with The Mars Volta to tell the story behind their Grammy Winning album The Bedlam in Goliath. In 2010 he spoke about weirdness and metaphor as a survival tool at the Fractal 10 conference in Medellin, Colombia (where fellow speakers included DJ Spooky, an MIT bio-engineer, and a doctor who explained the neurological aspirations of a sponge). He is at work on a host of new books.

Jeremy's fiction covers a broad spectrum of literary and genre material, and at times pushes the outer boundaries of both style and content, while never forgetting the heart of the story.
Jeremy is writing these things about himself in third person, and feeling highly self-conscious about the level of ego on display, although he knows this kind of marketing is ultimately beneficial. He is further dismayed at his present attempt at winking postmodernism, which he normally thinks is sort of hokey.

So, enough with the propaganda. He is me.

I'm Jeremy, and I live and write in Portland, Oregon.  I was born on September 21, 1977, exactly thirty years after Stephen King, and according to the delivering doctor I was an ugly baby with an elongated cone-skull that would've been great for holding a top hat in place during high winds.  I smell fantastic (you'll have to take my word on this), and tend to wear clothes. 
The real point here is that I'd like to tell you some stories.

And, as the old men selling fermented Kool-Aid used to say from their porch rockers, 

Thank you for your support.

-JRJ